Onsen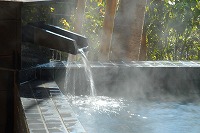 You can enjoy the fresh flow-through hot spring water in the five baths, each in different styles. The hot water in the bathroom of the guest rooms is also hot spring water.

Onsen characteristics: Flow-through hot spring water with hot water added to adjust the temperature
Onsen properties: Simple onsen (low mineral and gas content, neutral, high-temperature)
Onsen temperature: 92.3ºC
Main beneficial effects: Neuralgia, muscle/joint pains


Large bath with panorama window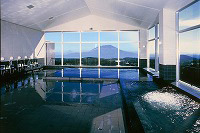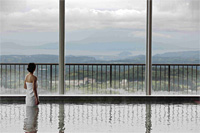 You will admire the view of Kirishima's grand nature spreading out beyond the huge panorama window. You can see Kinko Bay and Sakurajima on a clear sunny day.


Outdoor baths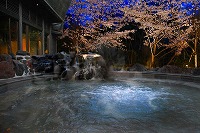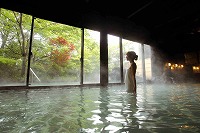 We have two outdoor baths where our guests can bathe while enjoying the sight of our beautiful gardens.


Open air bath for family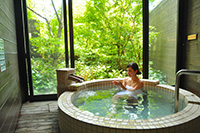 We have 貸切風呂(open air bath for family) in our hotel. It costs 1500yen for 45minutes as 1 time.
The time : 15:00~,16:00~,17:00~,18:00~,20:00~,21:00~,22:00~.
You can make a reservation in advance. Please send us the time you want to take and the check in day and the name of reservation by e-mail.


Private outdoor baths
We have two private outdoor baths that each has its own atmosphere. They are available for the use of friends, couples and families.
Facility fee: 1,500 yen / 45 mins.


Footbath
While you are taking a footbath under a table, you can enjoy Satsuma shochu, which features more than 170 brands made within Kagoshima Prefecture.


Dining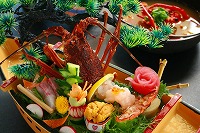 We offer our guests a fine kaiseki dining experience prepared with an abundance of local foods, such as free-range chicken grown at the foot of the Kirishima mountains, Shinwa ("mythical")-pork of Kirishima, and abalone and lobster, which are caught in home waters.


A la carte
Kirishima Fried Free-Range Chicken
1,080 yen per person
Lightly Roasted Bonito
870 yen per person
Satsuma-Age Fish cake
1,080 yen per person
●Vegetable Salad:640 yen
●Seafood Salad:870 yen
●Chicken charcoal-grilled
       :1,350 yen

Japanese Black Wagyu Teppanyaki
3,240 yen per person
Sashimi
2,700 yen per 2 persons
Should you have any dietary request for your dining, please let us know in advance, such as at the time of the booking. We will make an arrangement to the best of our ability. Please note that it may not be possible to comply with your wishes because of the timing of your request or our limited supplies of ingredients.
Around the Hotel
There are plenty of facilities making use of the natural environment and fun spots in the area surrounding the hotel.
Kirishima Jingu Shrine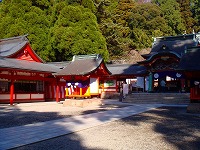 Kirishima Jingu is an old, venerable Shinto shrine established in the 6th century. Old Japanese cedars surround and shade the shrine and create a sublime atmosphere.
Kirishima Open-Air Museum
Kirishima Open-Air Museum is a large-scale outdoor museum in grand natural surroundings situated at 700 meters above sea level. Sculptures by 22 creative contemporary artists, both Japanese and foreign, are exhibited.
Gamakoan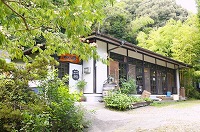 They serve fresh soba noodles made of locally grown buckwheat and natural ground water. You can also try making soba noodles yourself at a hands-on session, which is available by reservation and for a group of three people or more.
| | |
| --- | --- |
| Address | 5186 Yoshinomoto-cho, Miyakonojo City, Miyazaki Prefecture 885-0223 |
| Tel | 81-986-33-1226 |
| URL | http://gamakoan.jp/ |
Golfing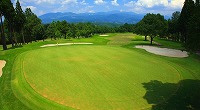 You will have an awesome golf experience on the golf courses designed to bring out the natural beauty of Kirishima Highlands.
| | |
| --- | --- |
| Name | Kirishima Golf Club |
| Address | 3311 Takachiho, Makizono-cho, Kirishima City, Kagoshima Prefecture 899-6603 |
| Tel | 81-995-78-2324 |
| URL | http://www.kirishima-gc.or.jp/ |
| | |
| --- | --- |
| Name | Kogoshima Airport 36 Country Club |
| Address | 1023 Shimonotakamatsu, Yokogawa-cho, Kirishima City, Kagoshima Prefecture 899-6302 |
| Tel | 81-995-72-1081 |
| URL | http://www.kuko36cc.co.jp/ |
Kirishima Highland Mahoroba-no-Sato
Kirishima Highland Mahorona-no-Sato is a leisure complex featuring outdoor sports facilities for grass skiing, cart racing, go-carts and putting golf as well as cultural activity centers such as pottery classes, a herb garden and visits to the sake bottle studio.
Kirishima-shi Kanko Kyokai (Kirishima City Tourism Association)
Information on sightseeing in the city of Kirishima is available.
| | |
| --- | --- |
| Address | 3837-114 Takachiho, Makizono-cho, Kirishima City, Kagoshima Prefecture 899-6603 |
| Tel | 81-995-78-2115 |
| URL | http://kirishimakankou.com/ |